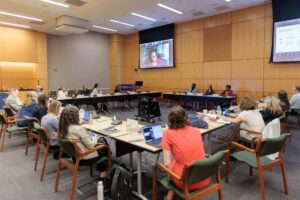 On November 15, the National Academies' Roundtable on Genomics and Precision Health will host a virtual event to highlight the work of the roundtable since the adoption of its strategic plan in 2020 and discuss what comes next. Speakers will provide their perspectives on the goals and key takeaways heard from workshop and event speakers. Public events since the strategic plan include:
Improving Diversity of the Genomics Workforce: A Workshop (2021)

Views & Voices: Reporting Genetics and Genomics (2022)

Realizing the Potential of Genomics across the Continuum of Precision Health Care: A Workshop (2022)

Next-Generation Screening – The Promise and Perils of DNA Sequencing of Newborns at Birth: A Workshop (2023)
The event will be accessible via webinar and will begin on November 15 at 12 p.m. ET. Learn more on the event page.