The Board of Directors is the governing body of NERGG and is composed of an executive committee and representatives from each the six New England states. We gather genetics service providers (physicians and genetic counselors), public health officials, and consumers (patients and families) to hear their unique perspectives as we work together to educate providers and the public to improve access to genetic services throughout the region.
Board meetings are held quarterly by conference call and/or Zoom meeting. Members are welcome to attend as non-voting participants. For phone-in or Zoom information for the meetings, please contact Cindy Ingham at director@nergg.org.
2022 QUARTERLY BOARD MEETINGS
March 28, 2022, 7:00 pm
June 13, 2022, 7:00 pm
September 19, 2022, 7:00 pm
December 7, 2022, 7:00 pm
Contact the executive director at director@nergg.org for dial-in/link information to attend the meetings.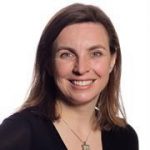 Kathleen Swenson is an Assistant Professor of Medical Sciences & Education at the Boston University School of Medicine and Director of the Boston University Master's Program in Genetic Counseling. She has 16 years of experience in genetic counseling in various...
PRESIDENT
Kathleen Swenson, MPH, MS
Boston University – Genetic Counseling Program, Director
Boston, MA
kbb2010@bu.edu
PRESIDENT ELECT
Tara Hayes, BS, CCHW
Rhode Island Family Voices Manager
Warwick, RI
thayes@ripin.org
IMMEDIATE PAST PRESIDENT
Kunal Sanghavi, MBBS, MS, LCGC
Jackson Laboratory for Genomic Medicine, Program Manager – Genetic Counseling
Farmington, CT
kunal.sanghavi@jax.org
TREASURER
Maria Gyure, MS, CGC
University of Connecticut – Genetic Counseling Program, Director
Storrs, CT
maria.gyure@uconn.edu
SECRETARY
Gillian McNeil, BS
University of Connecticut
Storrs, CT
gillian.mcneil@uconn.edu
STATE REPRESENTATIVES
CT Practitioner: Lisa Brailey
CT Public Health: Vacant
CT Consumer: Peggy Sweeney
ME Practitioner: Tom Brewster
ME Public Health: Holly Richards
ME Consumer: Sarah Staffiere
MA Practitioner: David Harris
MA Practitioner: Catherine Nowak (alternate)
MA Public Health: Eirini Nestoridi
MA Consumer: Sophia Zilber
NH Practitioner: Erica Stelmach
NH Practitioner: Lisa Demers (alternate)
NH Public Health: Amanda Merrill
NH Consumer: Joanne Huff
RI Practitioner: Kerry Ahern
RI Public Health: Emily Eisenstein
RI Consumer: Stephanie Trafka
VT Practitioner: Christine Giummo
VT Public Health: Linda Hazard
VT Consumer: Allison Wood