The Board of Directors is the governing body of NERGG and is composed of an executive committee and representatives from each the six New England states. We gather genetics service providers (physicians and genetic counselors), public health officials, and consumers (patients and families) to hear their unique perspectives as we work together to educate providers and the public to improve access to genetic services throughout the region.
Board meetings are held quarterly by conference call and/or Zoom meeting. Members are welcome to attend as non-voting participants. For phone-in or Zoom information for the meetings, please contact Cindy Ingham at [email protected].
2023 QUARTERLY BOARD MEETINGS
June 8, 2023, 7:00 pm
September 14, 2023, 7:00 pm
December 6, 2023, 7:00 pm (In Person at the Sheraton Portsmouth Harborside, Board Members Only)
Contact the executive director at [email protected] for dial-in/link information to attend the meetings.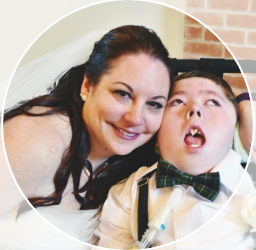 Tara Hayes is the Family Voices Manager for the Rhode Island Parent Information Network. She is the mother of a child with a rare disorder and a tireless advocate to improve the lives of individuals and families who live with rare genetic conditions. Tara joined the...
DIRECTORS
CT Practitioner
Lisa Brailey, MD
Asst. Professor/Assoc. Director of Tumor Cytogenomics
Mt. Sinai School of Medicine
Joined NERGG BOD 2016
CT Public Health  
Ginger Nichols, MS, CGC
Connecticut Children's Newborn Screening Network
MotherToBaby, Reprotox
Joined NERGG BOD 2022
CT Consumer
Peggy Sweeney, BA
Web Content Specialist, PerkinElmer
Joined NERGG BOD 2020
ME Practitioner
Thomas Brewster, MD, FAAP, FACMG
Consultant, MaineHealth
Joined Board of Directors 2001
ME Public Health
Anne Watson, BS, MSc, PhD, BSN, RN
Newborn Bloodspot Screening Coordinator
Maternal Fetal and Infant Mortality Review Panel Coordinator
Maine Department of Health and Human Services
Joined NERGG BOD 2023
ME Consumer
Sarah Staffiere, BA, MS
Biology Instructor
Colby College, Waterville, Maine
Mother of two children, one with an ultrarare genetic disorder
Joined NERGG BOD 2021
MA Practitioner
David Harris, MD
Clinical Geneticist
Boston Children's Hospital
Joined NERGG BOD 2002
MA Practitioner
Catherine Nowak, MD
Clinical Director, Medical Genetics and Metabolism Division, Massachusetts  General Hospital
Assistant Professor in Pediatrics, Massachusetts General Hospital
Medical Advisor, The Genesis Foundation for Children, Boston
Joined NERGG BOD 2017
MA Public Health
Eirini Nestoridi, MD
Associate Director, MA Center for Birth Defects Research and Prevention,
Bureau of Family Health and Nutrition, Massachusetts Department of Public Health
Joined NERGG BOD 2019
MA Consumer
Jean Bertschmann, BA
Executive Director
Spina Bifida Association of Greater New England
Joined NERGG 2023
NH Practitioner
Lisa Demers, MS, CGC
Medical Science Liaison, Variantyx
Joined NERGG BOD 2016
NH Public Health
Amanda Merrill, BSN, RN
Newborn Screening Nurse Coordinator
NH Department of Health and Human Services
Joined NERGG BOD  2021
NH Consumer
Joanne Huff, BSN, RN
Parent of a child with a rare disorder
Home care provider, Lakes Region Community Services
Joined NERGG BOD 2018
RI Practitioner
Kerry Ahern, M.S., CGC
Genetic Counselor
Women & Infants Hospital, Providence, RI
Joined NERGG BOD 2018
RI Public Health
Emily Eisenstein, MPH
Newborn Screening Program Manager
Rhode Island Department of Health
Joined NERGG BOD 2020
RI Consumer
Stephanie Trafka, CCHW
Parent of a child with a rare disorder
F2F Peer Support Professional; RI Parent Information Network;
Family Voices Health Research Support Specialist
Joined NERGG BOD 2022
VT Practitioner
Christine Giummo,  MA, MS, CGC
Genetic Counselor
University of Vermont Medical Center Clinical Genetics Dept
Joined NERGG BOD 2018
VT Public Health
Linda Hazard, Ed.D., CCC-A
Program Director, Vermont Early Hearing Detection and
Intervention Program
Vermont Department of Health
Joined NERGG BOD 2021
VT Consumer
Allison Wood, MS, CGC
Parent of a child with a rare disorder
Genetic Counselor, Blueprint Genetics
Joined NERGG BOD 2019